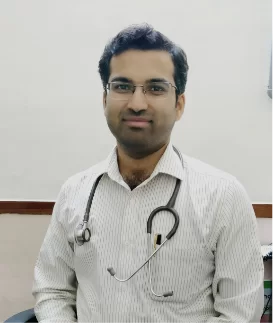 Dr. Mohit Bhutani
Otorhinolaryngologist/ ENT
Book Appointment
About Dr. Mohit Bhutani
Dr. Mohit Bhutani is currently working as Otorhinolaryngologist/ ENT, Head and Neck Surgeon. With more than 11 years of experience, he is counted among the best ENT doctors in Mohali and Chandigarh. He also did three years of senior residency in PGI and GMCH32, Chandigarh. His specializations include Adenoidectomy, Tonsillectomy, Septoplasty, Tympanoplasty, Phono surgery, etc
Medical Qualification
M.B.B.S., M.S (ENT)
Department Institute
Department of ENT, Head and Neck Surgery
Expertise
Endoscopic Sinus Surgeries (FESS) for Sinusitis
Fungal granulomas
Nasal Polyps
Telangiectatic Vessels
Nasal masses like Angio fibromas
Inverted Papillomas
etc Microscopic Ear Surgeries Myringo
Doctor Experience and Training
Overall 11 Years' Experience with 6 years as an ENT specialist in Chandigarh
He did three years of senior residency in PGI and GMCH32, Chandigarh
He is also an International visiting scholar – in Rhinology – from Stanford University, USA
Advanced Techniques In Endoscopic Management of Sinonasal Disorders, under Prof. Heinz Stammberger and Dr David Kennedy (Hands-on Cadaveric dissection with Image guidance) at Florida, USA
Awards and Accomplishments
Case report 'Papillary carcinoma In thyroglossal duct cyst: An unusual case' in Egyptian Journal of Ear, Nose, Throat and Allied Sciences' Volume 15, Issue I, March 2014.
Case report infant feeding tube as rescue endotracheal tube in an infant with an aerodigestive foreign body' in Journal of Anesthesia 2014.
Case report 'Mandibular Reconstruction- A Case Report and Experience' in Journal of Medical College Chandigarh, 2013
Amongst the top 15 finalists in NDTV's Next Big Online Business Idea·, a reality show on a leading business channel in India.
Book Appointment with Dr. Mohit Bhutani
Are you a doctor?
Please contact us to get your profile at HealthFinder.