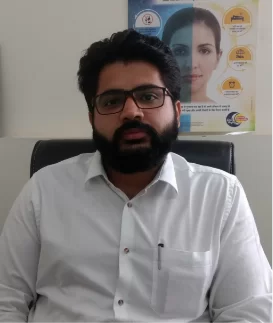 Dr. Sukhtej Sahni
M.B.B.S, MD(Psychiatry) (GHCH-32, Chandigarh)
Book Appointment
About Dr. Sukhtej Sahni
Dr. Sukhtej Sahni is a consultant psychiatrist at Cheema Medical Complex. He did his (MBBS) & Master in psychiatry (MD) from GHCH-32, Chandigarh, and is among the few addiction psychiatrists in Mohali. He has an immense dedication to the field of psychiatry & wants to uplift the stigmatizing status of mentally ill individuals.
Medical Qualification of Dr. Sukhtej Sahni
M.B.B.S, MD(Psychiatry) (GHCH-32, Chandigarh)
Department Institute
Department of Psychiatry & De-Addiction
Expertise
A natural & more practical approach to dealing with neurotic disorders such as depression and anxiety with a guided focus on yoga, meditation & counseling techniques.
Immensely dedicated to the field of Drug De Addiction and, follows a unique approach to dealing with clients with an emphasis on counseling focused on the patient's profile, society & environment beyond the medications.
Memberships & Certifications
Member of the Indian Psychiatry Society and its North Zone Branch.
Member of Indian Association for Social Psychiatry.
Awards & Accomplishments
The author of the book "The Inner Selfie" discusses day-to-day emotional problems.
Follow his Facebook page (link to the Facebook page) for motivational quotes & videos focusing on physical and mental well-being.
Book Appointment with Dr. Sukhtej Sahni
Are you a doctor?
Please contact us to get your profile at HealthFinder.