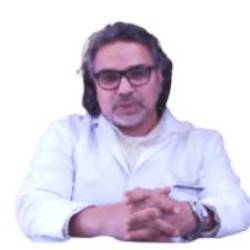 Dr. Anshumaan Kapoor
urology, stone management, andrology, prostate treatments
Book Appointment
About Dr. Anshumaan Kapoor
Dr. Anshumaan Kapoor(Urologist) is one of the best urologist in Chandigarh delivered medical help from 2002.
Proof of pedigree: 
MBBS, MS, D.N.B (in urology) from MPUH, at Nadiad. In 2003, he was the first doctor to introduce the use of lazier in urology.
Moreover,  he demonstrates surgeries across different states of India. The urologist has a record of over 1500 surgeries.
Specialization:
Dr. Kapoor's specialty lies in office urology, stone management, andrology, prostate treatments, and so on. He also practices reconstructive and pediatric urology to help recover from genitourinary issues. So, even if you have cancer in your urinary system, you can learn about it earlier and get treatment facilities further. The medical techniques he uses can help differentiate between vague symptoms and alarming ones. Following this, your treatment shall take place.
For communication: 
Email at: [email protected]
Or, call at 0712-263-4822
You may check for him online at: kidneyurostonecentre.com
For a face-to-face visit, go to Site No. 2 Kapoor's Kidney and Urostone Centre, near Gurudwara, opp. 45-46 Traffic lights, Sector 46-D, Chandigarh- 160047
Book Appointment with Dr. Anshumaan Kapoor
Are you a doctor?
Please contact us to get your profile at HealthFinder.