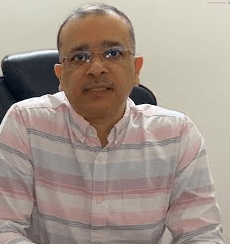 Dr. Anurag Sharma
The director of ACE Heart & Vascular Institute
Book Appointment
About Dr. Anurag Sharma
Dr. Anurag Sharma Cardiologist is The most friendly and approachable cardiologist in North India, serving patients for about 23 years…  
What is his credibility?
The doctor is an MBBS from the Punjab University, DMB (general medicine), and DM (cardiology) from PGIMER. He is the associate director of the Paras Hospital, Panchkula, and the director of ACE Heart & Vascular Institute. Also, he worked at:
Ojas Superspeciality Hospital,
Max Hospitals, Mohali (as an associate director)
Alchemist Hospitals (as a chief cardiologist)
He is renowned and appreciated for his detailed explanation of health problems to the patients. Many a time, different regional and national newspapers feature him for his immense medical knowledge and tips.
What is his specialty?
The doctor's specialization lies in heart failure management and every kind of disease related to the cardiovascular system. Well, he is a versatile cardiologist utilizing a wide range of techniques like:
Septal ablation for treating you when your heart muscle becomes abnormally thick and stiff
Ambulatory BP monitoring,  which can record your BP for 24*7
Intravascular ultrasound for accurate diagnosing. In this process, sound waves assist in checking the blood vessels.
Inferior vena Cava filter, a small tool for restricting blood clots to reach the lungs.
How to communicate?
The first way is to mail him at [email protected]
Then, you may try calling him up at 0172-478-1439/ 9779908264
You can even visit him at Max Super Speciality Hospital, Mohali Sas Nagar, Mohali, Chandigarh-160055 (landmark: Ajitgarh Sector-56A, Near Civil Hospital, Phase-6)
Concluding Remarks:
Hey, are you still with me, reading and engaging? By now, you are likely to be certain of why you need to consult a cardiologist. That too has to be the best cardiologist in Chandigarh! It is because only a cardiologist can help diagnose your cardiovascular health. And it is an early diagnosis that only can reduce and/or eliminate your life complications. Once your heart rhythm is back in its place, so will your vigor!
Book Appointment with Dr. Anurag Sharma
Are you a doctor?
Please contact us to get your profile at HealthFinder.