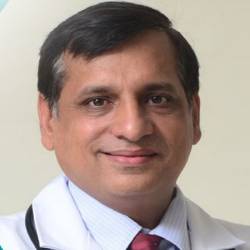 Dr. Manoj Sharma
D.N.B in genitourinary surgery from the National Board of examination.
Book Appointment
About Dr. Manoj Sharma
Dr. Manoj Sharma is one Who chooses comprehensive and compassionate care as the aim since 2005
Proof of pedigree:
MBBS, MS, and M. CH from B.J. Medical College, Ahmedabad. To add more, he is a senior consultant urologist at Mayo Super Speciality Hospital in Chandigarh.
He has conducted about 400 open urological surgeries and nearly 1000 endourological surgeries. And patient satisfaction margin is over 500+.
Specialization
With experiences in laparoscopic urology, reconstructive and pediatric urology, and uro-oncology, Dr. Manoj Sharma helps his patients. Similarly, he is also has expertise in stone management and Andrology. Therefore, if your children face ailments issues in the genitourinary systems, the doctor can guide them. Any male or female adult who faces problems in reproductive health can consult him. At the same time, the Chandigarh urologist even assists in the early detection of cancer and treats you accordingly faster.
For communication:
Email at: [email protected]
Or, call at 9872618670/ 987267673
You can even find him on the web at: tricityurologist.com
Address for going to his location: Site No. 1 & 2 Mayo Hospital, Sector 59, Sahibzarda Ajit Singh Nagar, Chandigarh- 160062
Book Appointment with Dr. Manoj Sharma
Are you a doctor?
Please contact us to get your profile at HealthFinder.