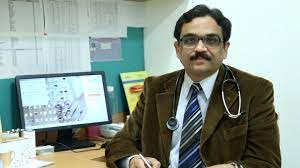 Dr. Sudheer Saxena
Myocardial Infarction (heart attack) - high blood pressure and high cholesterol
Book Appointment
About Dr. Sudheer Saxena
Experienced in combating cardiac diseases since 1997…
What is his credibility?
The doctor has completed his MBBS and MD from the SMS Medical College, Jaipur.  Then, he pursued DM (in cardiology) from PGIMER. In recent times, he is the principal consultant of cardiology at the Max Superspeciality Hospital.  Before receiving such a position, he worked at various medical institutes like:
Tata Heart Care & Research Centre, Jalandhar
Mediciti Hospitals at Hyderabad
Kamineni Hospital, Hyderabad
Fortis Heart Institute, Mohali
His credibility gets emphasis through his various awards and fellowships. Let us discover some of them!
In 1988, he bragged the university gold medals for deriving the first position in Gynaecology, Pharmacology, Physiology, etc.
He was a gold medallist in 1992 for MD (in internal medicine).
Furthermore, he secured a fellowship in advanced interventional cardiology from the Royal Perth Hospital, Australia.
He is another best cardiologist in Chandigarh who has performed more than 10000 angioplasty procedures. No doubt, the doctor is keen to apply his vast experience. Such experiences culminate in better heart health for his patients.
What is his specialty?
Dr. Sudheer Saxena intends to combat diseases like Myocardial Infarction (heart attack) that are related to high blood pressure and high cholesterol.  At the same time, he also specializes in treating Cardiac arrhythmia (irregular heartbeat) and chest pain that occurs due to Coronary heart disease (Angina Pectoris). He can also heal conditions like Peripheral Artery disease, where the blood vessels get narrow, consequently reducing blood flow to the limbs.
If you seek treatment for rheumatic heart diseases arising out of rheumatic fever, Dr. Sudheer Saxena can be your call! He can help avoid the damage to your heart, skin, joints, or brain that is likely to occur when you have this disease.
To open up cardiovascular functioning and restore the blood flow, the doctor uses angioplasty processes. There are various modes of angioplasty used as per the heart conditions. These processes offer a sigh of relief from chest pains or fatigue on an immediate basis.
How to communicate?
For connecting with him online, go to www.sudheersaxena.com
Or, call him at 0172-325-9512/9814104010
You can even visit him at 1180, Sector 8C, Gurudwara Main Road, Chandigarh-160008
Book Appointment with Dr. Sudheer Saxena
Are you a doctor?
Please contact us to get your profile at HealthFinder.