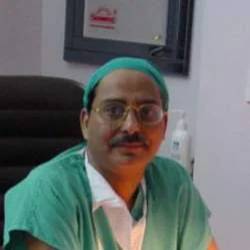 Dr. P.N Gupta
Academic paper at the world urology conference of September 1997, in Montreal
Book Appointment
About Dr. P.N Gupta
The Urologist will detect your problem with practices  like:
Cystoscopy: A close look-up at your bladder and urethra using a specific kind of telescope.
Ureteroscopy: Look-up of your ureters and kidney.
Prostate Biopsy: Testing a tiny tissue from your prostate.
Reconstructive urology: Restoring the normal conditions of the genitourinary tract.
Laparoscopic surgeries and many more.
To detect your problem and fetch a remedy, you need to call for action.  That is why we are here to help!  Precisely, in your first step. The step is to find the best urologists in Chandigarh whom you can look up to for your treatment.
Proof of pedigree: 
MBBS and MS from  S.M.S medical college Jaipur, and FUCSF. Presently, he aids with medical services in P.N. Urology and Surgical Centre. Besides, he is a member of the American Urology Association and the Society of international Urology.
He was the one to present an academic paper at the world urology conference of September 1997, in Montreal. The Society of International Urology organizes this conference.
Specialization:
In case you have kidney or bladder stone, urinary incontinence, erectile dysfunction, Dr. PN. Gupta can offer help! He specializes in diagnosing and treating these medical issues. He is also known for conducting micro-surgery on infertility patients. Some of the techniques he uses comprise Uretro-Renoscopy, and Ureteroscopy using the Swiss Lithoclasts. This technique is a combination of ultrasound and pneumatic lithotripsy. Precisely, to break the kidney or bladder stones faster.
For communication: 
Email at: [email protected]
Or, call at: 0172-269-9995/ 0172-269-3449
You can even walk into the hospital at 1359, Sector 40B Road, Sector 40B, Chandigarh- 160036
Book Appointment with Dr. P.N Gupta
Are you a doctor?
Please contact us to get your profile at HealthFinder.